What is Diverticulosis / Diverticulitis?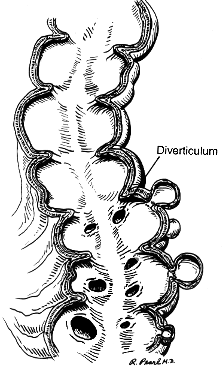 Diverticula are pockets that develop in the colon wall, usually in the sigmoid or left
colon, but may involve the entire colon. Diverticulosis describes the presence of these pockets. Diverticulitis describes inflammation or complications of these pockets.
WHAT ARE THE SYMPTOMS OF DIVERTICULAR DISEASE?
Uncomplicated diverticular disease is usually not associated with symptoms. Symptoms are related to complications of diverticular disease including diverticulits and bleeding. Diverticular disease is a common cause of significant bleeding from the colon.
Diverticulitis – an infection of the diverticula – may cause one or more of the following symptoms: pain in the abdomen, chills, fever and change in bowel habits. More intense symptoms are associated with serious complications such as perforation (rupture), abscess or fistula formation (an abnormal connection between the colon and another organ or the skin).
WHAT IS THE CAUSE OF DIVERTICULAR DISEASE?
The cause of diverticulosis and diverticulitis is not precisely known, but it is more common for people with a low fiber diet. It is thought that a low-fiber diet over the years creates increased colon pressure and results in pockets or diverticula.